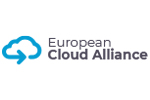 European Cloud Alliance
The European Cloud Alliance brings together businesses across the cloud value chain to provide a voice on cloud-related policy issues. We represent those that use, create, and provide cloud services across Europe. We have 40 member companies, which represent the diversity and dynamism of the cloud industry across the EU. Our engagement is grounded in a commitment to three principles: 
We build the understanding and trust that is essential to the growth of cloud usage in Europe; 
We promote a policy environment that supports cloud adoption in Europe;
We promote best practices in order to encourage organisations to transform their businesses through the cloud.​